Upcoming Concerts
Fall 2018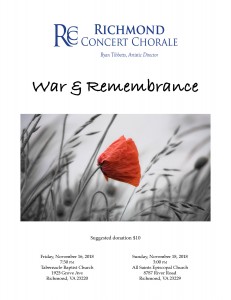 Our 2018-2019 season kicks off in November with War and Remembrance, a program honoring the centennial of the end of World War I, featuring Gerald Finzi's Requiem da Camera as well as music by Byrd, Janequin, McDowall, and others.
Friday, November 16, 2018 at 7:30 PM at Tabernacle Baptist Church, 1925 Grove Ave, Richmond VA 23220
Sunday, November 18, 2018 at 3:00 PM at All Saints Episcopal Church, 8787 River Road, Richmond, VA 23229
Suggested Donation: $10 (payable in cash or check). A reception will follow the Sunday afternoon performance.
Spring 2019
On February 17, 2019 at 5:00 PM, we will offer our third annual joint service of Choral Evensong in collaboration with the choirs of All Saints Episcopal Church, presenting the Merton College Service by Latvian composer Ēriks Ešenvalds.
In April 2019, we will present Buxtehude's oratorio Membra Jesu Nostri in collaboration with Jefferson Baroque and musicians from St. Benedict Catholic Church.  To audition for the Chorale's Spring concerts, please visit our Auditions page (Spring auditions will be held in early January 2019).
Past Concerts
Summer 2018 Concert
In July 2018, we performed in collaboration with Viola da Samba, a European early/Brazilian music trio, and presented the North American premiere of Jean Kleeb's Missa Brasileira
Spring 2018 Concert
Our Spring 2018 Concert, "Southern Harmonies," featured music from composers who were born or worked in the southern part of their home countries, from south of the equator or "south of the border,"  or were inspired by the American Sacred Harp tradition, including works by Reger, Higdon, Araujo, Padilla, and others
Fall 2017 Concert
Our Fall 2017 concert, Light in the Darkness, featured Monteverdi's "Beatus vir," a Telemann motet on "Ein feste Burg," Eric Whitacre's "Sainte Chapelle," and music by Byrd, Bruckner, Tallis, and others.  We enjoyed collaborating with Richmond-based period instrument ensemble Jefferson Baroque for these performances!
Spring 2017 Concert
Our Spring 2017 Concert, "Flight for Heaven" featured music by J.S. Bach, Benjamin Britten, and more.  We also enjoyed performing in Smithfield, VA as part of the Isle of Wight Arts League's "Sundays at Four" concert series!  For more information on the Isle of Wight Arts League and the Sundays at Four series, please visit their homepage.
Choral Evensong at All Saints
On February 26, 2017, the Richmond Concert Chorale partnered with the Adult Choir of All Saints Episcopal Church to offer a service of Choral Evensong, with music by Roland Martin, Rachel Aarons, Steven Sturk, and others.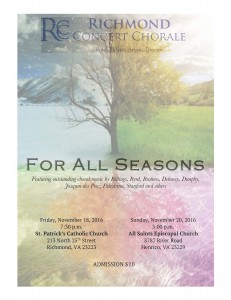 Fall 2016 Program: For All Seasons
Please join the Richmond Concert Chorale for our fall concert, For All Seasons, a program celebrating sacred and secular seasons and cycles, featuring music by Brahms, Byrd, Debussy, Josquin, Stanford, and other classics alongside music by living composers including Melissa Dunphy, David Carpenter, and Jackson Hill.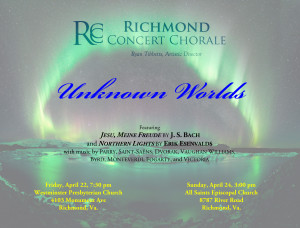 Spring 2016 Program: Unknown Worlds
The Richmond Concert Chorale concludes its 20th Anniversary Season with a program that  features J.S. Bach's motet Jesu, meine Freude as its centerpiece and draws on music from the Chorale's past (including Victoria's O quam gloriosum, performed at RCC's first performance in 1995, two of Dvořák's Songs of Nature, and Ralph Vaughan Williams' haunting Silence and Music).  The program also features Ēriks Ešenvalds's Northern Lights for chorus, tuned wine glasses, and handchimes, as well as music by Byrd, Parry, Saint-Saëns, Fogarty, and Monteverdi.  RCC's Founding Director Bruce Stevens joins us on Friday as continuo organist for the Bach, and Scott Hayes, the Director of Music at All Saints, joins us on Sunday.
Fall 2015 Program: Music for the Soul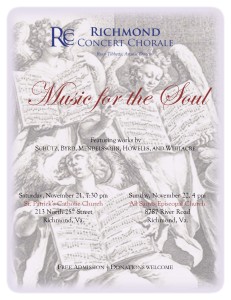 The Richmond Concert Chorale opens its 20th Anniversary Season with a program of music written by composers in times of turmoil, featuring William Byrd's Mass for Four Voices, as well as music of Howells, Mendelssohn, Schütz, and Whitacre, all for unaccompanied chorus.
Spring 2015 program: For the Fallen
Friday, May 15, 7pm — Christ Ascension Episcopal Church

In the 150th year after the end of the Civil War, join us for a concert in memory of all who have lost their lives in wars, both here and abroad. The program features the haunting 2010 Requiem of Bob Chilcott (a former King's Singer and very talented composer), as well as music of Eleanor Daley, Felix Mendelssohn, and Paul Aitken.
Fall 2014 program: In Praise of Music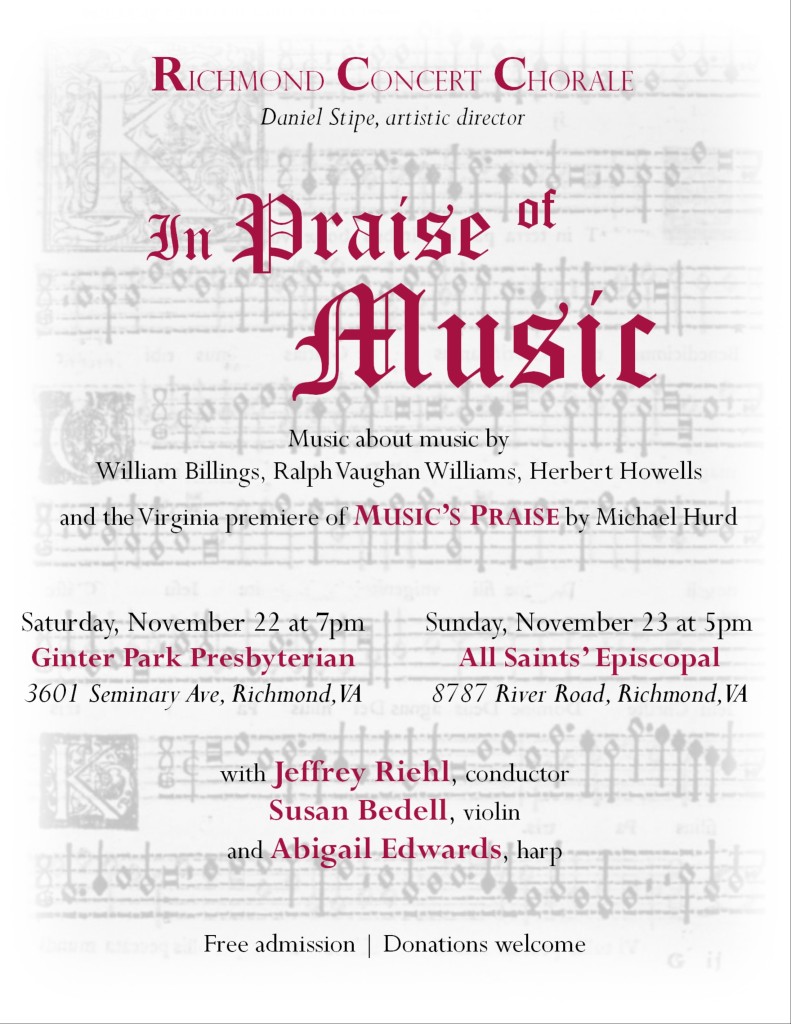 Spring 2014 program: Love Songs for Mother's Day
May 10 and 11, 2014